Darwin Nunez needs to learn from the way Luis Suarez became lethal after the rough start!
There are some things stats don't capture! That's exactly what Darwin Nunez brings to Liverpool's side when he is playing! Intelligent players sometimes influence games without even having to touch the ball, by mere movement and positioning. He is a number 9 of old times but with speed who wreaks havoc. And that is precious on every team and the statistics often does not have a way to capture this influence!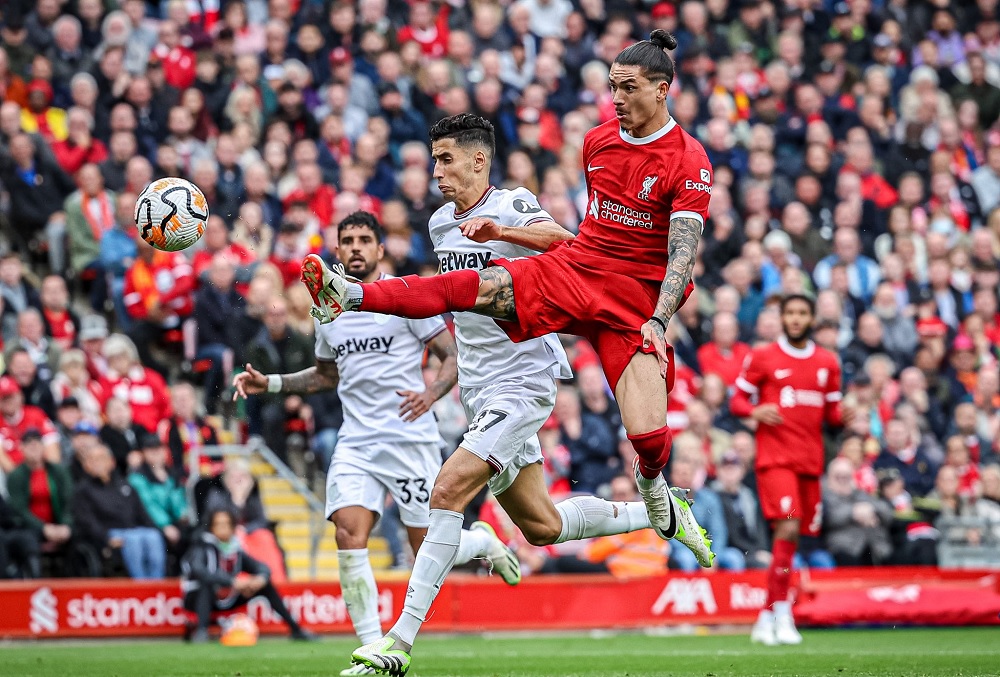 By CHRISTOS SOTIRAKOPOULOS
Whether the numbers back it up or not, how do defenders prepare for that chaos that the guy from Uruguay brings? They simply can't. And if they try it, then it opens things up for Salah and Diaz or Gakpo and Jota depending who is alongside him!
Nunez is still young only 24 and will miss some sitters due to his nerves. Nunez needs to learn from the way Suarez worked his rough edge back in 2011-12 in his first full season in England! Once Suarez got all the games under his belt that season, he started in 2012-13 to show his real talent. And in 2013-14 he nearly won the league singlehanded for Liverpool.
Everyone expects the same to happen with Darwin and he will be on another level as soon as he gets more playing time!
He will improve no doubt and already does compared to last season! As for his work rate and goals/assist improvement is coming in! The Uruguayan will settle down more once he gets into the team"s rhythm and tactics fully and he is already showing signs he will justify fully the 85 million pounds tag he carries…
As for not being clinical I am sure he will improve because he is very young. He scores the impossible and misses the easy chance ,on the other hand though, he is very useful because his runs and presence scare the life out of opponents. Klopp believes that more positive things are coming from him.
Slowly chipping away at the rough edges Darwin is developing and he is going to be a problem for the opposition in many ways!
The only thing to be honest that lets him down is composure infront of goal other than that everything he does is at a world class level.
Quality player who the Liverpool fans can't wait to see hit the ground running as he's still got much more potential to show! And even if he will not reach the numbers he scored for Benfica still he will prove himself indispensable for Klopp!